Holiday Schedule
New Years Eve 10:30 am only
New Years Day 5:30 pm 6:30 pm WOD
7:30 pm Beginners 
Sunday 12/30/2012
Part A
Front Squat
3 x 5
Part B
for time:
7 rounds
15 Burpees
100 ft  Bear Crawl
20 Kettlebell Swings 53/35
"Confidence is contagious. So is lack of confidence." 
― Vince Lombardi Jr.
Bring the Confidence!  Bring  your A game!
Sugar… New Research  –  it keeps getting worse.
---
Thursday 12/20/2012
BRENTON
Five rounds of:
Bear crawl 100 feet
Standing broad-jump, 100 feet
Do three Burpees after every five broad-jumps.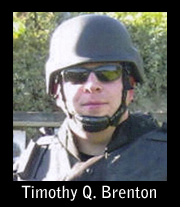 Field Training Officer Timothy Quinn Brenton, 39, of the Seattle Police Department, was shot and killed in a drive-by shooting while on duty on October 31, 2009.
He is survived by his wife Lisa, his son Quinn, and daughter Kayliegh.
First posted October 21 2010
Endurance WOD
4 x 800
2 min rest
Low Carb – Paleo, Evolution in the discussion with Robb Wolf
One of the things I like about Robb is that he is engaged in a path of learning and improvement.  It is a constantly evolving process.  He is not sold on his own opinions but rather in a search for the truth.  He is not afraid to correct himself, a  quality I find rare in people considered to be experts in their field.
Fear not, less than 2 days til the end of the world.
"The fear of death follows from the fear of life. A man who lives fully is prepared to die at any time." 
― Mark Twain
Gravlax  (Salmon recipe)
---
---