---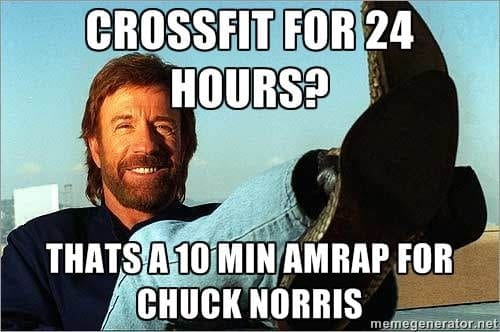 Challenge yourself today and check out this Chuck Norris approved AMRAP – WOD:
Don't forget, this evening, 2/8 at 6:30 pm, we are having a Performance Enhancing Drugs, Sups & Nutrients (minus the drugs) Clinic!
Join expert Sarah Pate and learn how to maximize your performance, health and results.  $20 for members & non-members. 
Sign up on the bulletin board or on the Website!
________________________________________________________
February Reminders:
Monday, February 12th 5-7:30pm – Member Appreciation Event.Free Chair massages by Lito's Touch n Go Mobile Massage, My Sisters Closet Boutique will be set up (Valentines day shopping anyone?) and food and drink for all. It's also a free Guest day, so bring a friend!
InBody composition machine is here Tuesday, 2/20. $40 for one session or two for $70. Sign up on excel sheet (in the newsletter)
2018 CrossFit Open starts Thursday, 2/22, get signed up! games.crossfit.com We need judges too!
---
---
---
---
---
---